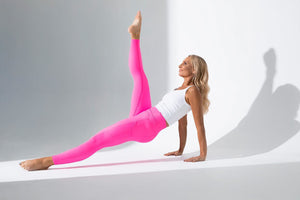 Featuring:
TRACEY MALLETT
To close out The New Year Dash, we tapped world renowned fitness and wellness expert and #GoGirl Tracey Mallett. Tracey, among many things, is the founder of bootybarre, bbarreless, and her most recent venture, a new app called PilatesBarreOnDemand delivering the best in fusion fitness workouts with new weekly videos. Tracey's positive energy and well choreographed workouts are the perfect way to wake up your body and feel good all week.
Let's GO!
WE CHALLENGE YOU to complete Tracey's GO to exercises at least twice a week or whenever your body is craving some movement, try switching up your go to snack for Traceys', and last but definitely not least, test out her self care routine.
Whether you follow Traceys' recommendation or modify to your needs, our goal is to keep GOing together - strong, happy, and healthy through 2022!
Tracey's go -to moves
We're moving with the booty queen this week so I think you know what's coming your way!
GO TO RECIPE
KALE CHIPs
Preheat oven to 350
Remove the leaves from stems on one head of kale -wash and pat dry
Massage a bit of oil into the kale and spring with salt, pepper, and nutritional yeast
Spread out kale on a baking sheet without touching each other
Bake for 15 minutes, shaking the sheet half way through
Enjoy!
GO to self care
Foam Rolling
There is nothing better than opening up my chest and releasing all the positive energy on my foam roller. I just launched my new app pilatesbarreondemand with tons of foam rolling classes!