HOW IT WORKS
We carefully craft every material, trim, and detail to create a virtually weightless bag with tons of pockets and multple ways to wear it.
You define your path, Go Dash Dot will take you there.
Explore our bags
★★★★★

This is literally the lightest bag ever!! It somehow fits so much and never gets heavy. It's the perfect size to shlep my stuff around but it's not too cumbersome to have on my shoulder. The color is a plus! It goes with everything and the pop of orange is adorable

Arly Messenger Customer
★★★★★

How is this bag bigger inside than out?
Everything is organized, intuitive, and easy to use. The quality of the design and craftsmanship are top-notch.
Love all the extras it comes with!
For a busy day on the run or a whirlwind weekend away, this is the solution I didn't even know I was looking for.

Go 2 Tote Customer
★★★★★

This is the roomiest and most versatile bag. You can bring it to the gym or on a flight as carry-on. The placement of the pockets is truly genius. I am very happy with my Weekender 2 bag, and I can highly recommend it, along with the stellar customer service I received from Melissa and Hannah! It is totally worth the investment!

Weekender 2 Customer
★★★★★

I am so excited with this purchase (I had a feeling I would love it so I bought 2…one for my sister.)

I have spent so much time untangling jewelry or have not been able to wear it on my trip because it was tangled!


Get one now…you won't be sorry!!

Travel Jewelry Case Customer
★★★★★

I recently purchased the silver mini backpack, not totally sure I would like it, but it was so cute, I gave it shot. Turns out I LOVE it.

It's a great everyday bag. Fits everything I need for full day with room to spare, it's lightweight, and looks so cool! I get compliments everywhere I go."

Mini Maya Backpack Customers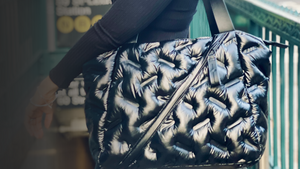 OUR STORY BEGINS...
in the New York City subway. One of the five bags I was carrying got stuck on the turnstile launching my stuff everywhere. As I collected my lunch, gym shoes, water bottle and dirty socks, I noticed each person standing on the platform giving me the same "been there" look. It dawned on me that of all the bags I owned, none of them actually fit all my stuff, let alone kept it organized. And so, I designed a better bag.
xx, Hannah | Founder
Full Story →